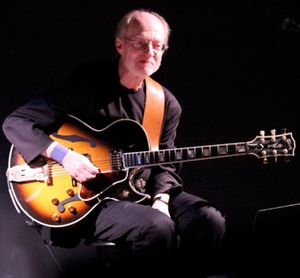 If you are interested in lessons via Zoom or Skype please contact me at devosguitar@gmail.com
Lessons are payable through PayPal, Zelle and Venmo.
If you are or will be in the NYC metro area, I offer instruction at intermediate through master levels. Students may come on a regular schedule or on a need-basis, including  one-time consultations before important gigs or recording sessions. I work with your individual needs. I encourage students to identify and reach their own goals and develop their own voice in any guitar style.  I work not only with guitarists but also with other musicians seeking instruction on improvisation, composition, or jazz performance. Please feel free to write me at
devosguitar@gmail.com.
Bob
Bob began teaching almost as soon as he began playing. A generous and giving instructor, he knows what will work for each student. His formal experience includes two long tenures at university jazz programs, first at William Paterson University and since 2001 at Lehigh University.

He deeply understands the value of excellent teaching: As a young musician he studied with legendary teachers beginning with Joe Cinderella and later going on to Harry Leahy and then Dennis Sandole. Later, he studied composition with classical composer Edgar Grana.

Bob has given clinics nation and worldwide. Participants enjoy Bob's easy accessibility, good natured humor and ability to impart meaningful lessons in a onetime only, group setting.  Other experience has included a valued semester as Artist in Residence at Newark NJ's prestigious Arts High School, working with all instruments.
 
He works wonderfully well with students of all ages; his secondary school students become lifelong friends. Their parents deeply value not only Bob's concern for their children's musical progress, but their overall development. Most of his secondary students were chosen for All State orchestras in their respective states, including New York and New Jersey and many have gone on to professional careers.
 
Bob works with both amateur and professional adults, making meaningful contributions to their advancement. He spends much time thinking about the needs of each student. He works in many styles, including jazz, blues, funk, rock and Brazilian.